Welcome to EURA!
At a time when global forces are strengthening and localism struggles to reassert itself, there is a need to re-examine the place which cities take in the social and economic order and this is what the European Urban Research Association (EURA) aims to achieve. This web site provides information about the origins of EURA, its aims and objectives and its charter. It also gives information about past and present EURA events, including conferences and workshops.
Don't forget, of course, to visit our EURA Expertise section aimed at stimulating networking and funding opportunities in urban research.
Visit our information section here to learn about upcoming events and deadlines.
EURA Journal: Urban Research & Practice     
EURA launched their journal Urban Research & Practice in 2008. For  further information and 'Call for Papers' visit the Journal page.
Get directly to the free articles here!
Brief history
The European Urban Research Association (EURA) was launched at an international conference held in Brussels, Belgium in September 1997. The inspiration for this association originated in after discussions proposing the creation of a new association for urban researchers at an international seminar on 'Shaping the Urban Future' held in Bristol, England, in July 1994.
Aims and objectives: Our charter sets EURA's aims and objectives and provides information on membership and association's structure.
Our urban future
At a time when global forces are strengthening and localism struggles to reassert itself, there is a need to re-examine the place which cities take in the social and economic order. Figures speak for themselves, as the world population grows, the future is largely urban:
EURA is mainly European through its membership and expertise. As the world goes urban, it is therefore timely to review and reflect the role and function of the city in a changing Europe, examine European cities' similar characteristics (of history and heritage, of design and built form, of politics, governance and democracy, of economic function, of social structure and association) and their distinctive features.
However, Europe is only a small part of our urban future, and it is getting smaller: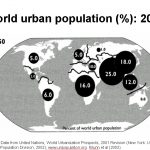 In a world that is both globalising and urbanising at the same time it makes no sense for urban researchers to limit their perspective to experience within a single continent. Hence, from the outset the European Urban Research Association (EURA) has welcomed dialogue with scholars from countries beyond the frontiers of 'Europe'.
Robin Hambleton, a past President of the Association who now works in the UK, has offer some thoughts on 'European Urban Research in Global Context' to the EURA Conference on 'Cities in City Regions' held in Warsaw, Poland in May 2006. The above slides are included in his presentation.
It examines urban trends at the global level, sketches ideas on possible urban research priorities for this next period, and offers some reflections on the changing nature of urban scholarship in a rapidly changing world.
The EURA agenda: bridging research and policy
In this globalised context, academic multi-dimensional and interdisciplinary urban debate is needed in the 21st century. So is cross national research and policy exchange. EURA wants to offer a bridge between research and policy. Researchers want to help policy makers support integration, cohesion, and collaboration in the area of urban policy, ambitions often difficult to achieve. Policy makers must in turn recognise that researchers have an important contribution to make. Our shared agenda about urban problems must be developed, explored, buy tramadol no prescription, extended and indeed challenged. EURA can facilitate the exchange of ideas and fosters the transfer of good practice in urban research and policy. It can also enable common trends to be examined – for example, the experience of economic competition, of social polarisation, of changing democratic form,
and of technological innovation – and it enables different responses to be compared.
In the European context there is another pressing agenda for EURA: debating the need for a European urban policy, it is crucial that academics should engage in this debate and EURA wishes to play a strong part in the European urban policy debate.