COVID-19 and the movement to tackle racial inequality
EURA Conversations Post #28 – 05 July 2021
Robin Hambleton, University of the West of England, Bristol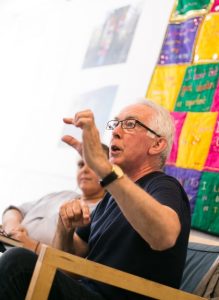 In June 2020 the links between the COVID-19 calamity and a renewed campaign to end racism in the modern world came together at a dramatic public protest here in Bristol, of which more in a moment.
As early as April 2020 researchers in the USA had already shown that COVID-19 was disproportionately affecting black communities. For example, in Chicago, at that point in time, while African Americans comprised 30% of the population, they accounted for 70% of the COVID-19 deaths in the city.
During the last year or so numerous studies – in the UK and elsewhere – have shed light on the reasons why COVID-19 has disproportionately affected those living in Black, Asian and Minority Ethnic (BAME) communities. Three stand out.
First, many people with BAME backgrounds are front line service providers working, for example, in hospitals, care homes for the elderly and public transport. This has put them at much greater risk of being infected. Second, many BAME people survive on very low incomes and live in poor, often overcrowded, housing. This makes it much more likely that they will get infected at home. Third, there is evidence that prejudice against people with BAME backgrounds can result in education providers, health services, employers and others being less attentive to their needs.
The big picture here is that COVID-19 is proving to be very effective in really hurting the people in society, not just BAME communities, who are already vulnerable. The virus has revealed, in a way that no amount of social scientific research could match, just how unequal societies had become well before the pandemic crept onto the world stage.
It is against this background that, on 25 May 2020, police officers in Minneapolis killed George Floyd. This horrific murder immediately spurred massive public protests against racism in many American cities. Relatively quickly, the Black Lives Matter movement led to black and white people in many countries protesting about the chokehold killing of a black man.
One of these major public protests took place in Bristol on 7 June 2020. During this demonstration Black Lives Matter protesters pulled down a statue of the prolific slave trader Edward Colston, hauled it along the ground and, to the cheers of onlookers, dumped it into the harbour. Photographs of the bronze statue of the slave trader splashing into the water had a global impact.
Subsequent events reveal a tale of fine, empathetic city leadership. Marvin Rees, a young mixed race man, was directly elected as Mayor of Bristol in 2016, and re-elected for a second term in March 2021. Rees, the first ever mayor of black African-Caribbean descent to lead a major European city, has a working class background and was brought up in some of the most deprived areas of the city.
Last summer Rees provided inspirational leadership for our city not least because he is comfortable with complexity. He explained how he did not condone criminal damage but, at the same time, argued that the city's newly created One City Approach to overcoming inequality was given a renewed 'sense of urgency' by the downing of the statue https://www.bristolonecity.com/
In many interviews given to the national and international media he stated that the key issue facing the city was not racial inequality. Rather he stressed that the central challenge concerns race and class, and that the focus of effort needs to be on tackling social immobility of the less well off, whatever their skin colour.
Last month, on the anniversary of the 7 June 2020 demonstration, the damaged and defaced statue of Edward Colston went on temporary display at a city museum in the centre of the city. Many of the placards made by Black Lives Matter protesters and left after the demonstration are also exhibited. https://www.bristolmuseums.org.uk/m-shed/whats-on/the-colston-statue-what-next/
Last year Mayor Rees set up an independent History Commission to help all of us who live in Bristol understand more about our shared history. The Commission is now consulting the citizens of Bristol and will advise on what to do with the statue in due course.
An important lesson stemming from the Bristol experience is that successful post COVID-19 strategies need to deliver much more than sound plans to address our public health crisis and promote economic prosperity. They need also to tackle social and racial inequality as well as respond to the pressing climate change emergency.
In the next EURA Conversation João Igreja discusses the impact of the
pandemic on strategies relating to urban mobility.